VIDEOS MADE FOR CHICAGO BUSINESSES LIKE YOURS
Click on any thumbnail below to view one of these recent projects.
Accurate Perforating & Metal Fabricating
There are so many great reasons to work with an online video agency
HOW A VIDEO AGENCY BENEFITS YOU
1. You'll build a long-term relationship with producers committed to your company's video efforts.
2. You'll be working with people who understand your brand.  This saves time and leads to better content!
3. With a single agency handling your video projects, you'll have an easier time integrating their efforts into your overall marketing strategy.
4. You'll have priority access to an agency you trust.  No need to worry about whether they've booked another project when you need them.
5. Booking projects in advance saves money – especially compared to budgeting and scheduling projects one at a time.
6. Developing a longer-term relationship gives you time to evaluate your ROI, optimize your content and make your video even more effective.
Video Development
Our collaboration starts with no-pressure conversations about ideas, goals, and desired outcomes.
Video development, sometimes referred to as pre-production, includes initial meetings with an overall goal of getting to know your company, your needs and your goals.  It's also a great chance for you to discover how we work and what makes us a perfect fit.
If you're just starting the process of selecting a video partner, please give this blog post a quick read.  It's a few of our best tips on finding the right video production company for you. We hope that's us, but sometimes it's not.  Of course, we'd like to work with you, guide you, and help you develop the most effective video possible.  The more you know about your own marketing strategy, the better we'll be able to determine how we can best work with you.
During our development conversations, we'll also try to determine the number of videos you should create over the next year as well as the types of video you should be making.  The quantity and styles of videos will be determined entirely on your goals.
Finally, we establish initial deadlines and schedule follow up conversations.  Our work together has just begun!  We can't wait to show you what we can do.
Scriptwriting
We'll write scripts for you, get your feedback, and make it just right.
Once we understand your company culture and goals, we work to give it a "voice".  We can work with your marketing team to emulate your existing tone, or we can work with you to create something new from silly to serious.
It's entirely likely that we'll create scripts for you that combine the best of what you're already saying to people and what you'd like to say.  Depending on the type of videos we're creating for you, we may be creating very different scripts from one video to the next.  For example, in one video, we might craft a VO script (read more about voice over scripts here) and in another video, we might be helping you determine just the right message from your new department leader.
Script writing is an important step in creating your video.  Producing scripts allows both of us space for additional ideas and message refinement.  (And, if you're the DIY type, then please read our blog post on how to write scripts for your video.)  Our team has experience in writing for sales, marketing, blogs and all sorts of business content.
Once you've approved the written message, we'll work on the next step to bring your videos to life.  Looking for examples of our scriptwriting prowess?  Take a look at our examples page.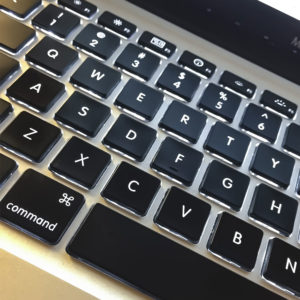 Video Production
We travel to you to get the shots!  And, we always have a plan.
With the proliferation of high-quality video recording devices hanging out in our back pockets, it's understandable that you might think that video production is all about recording video.  (It's not.)
Oh, and for the smartphone-DIY-video savvy among you, take a look at our blog post on using mobile phones to make video for your company.
When you're ready for us to make your videos, you'll experience the culmination of our initial meetings, strategy session and script writing.  This is where ideas and plans come together.  We use only professional cameras, lenses, audio gear and lighting so that we can help you look and sound your very best.  We'll use our expertise in video production to help your potential customers see your best, authentic self.  To that end, we find that bringing our gear to a location where you feel most comfortable results in the best performance.  We've worked in warehouses and doctor offices, cramped conference rooms and the great outdoors.  If you'd like read more about some of our shoots throughout Chicagoland, then please read our blog post.
Nervous about the thought of being on camera?  That's perfectly natural.  We work with professional talent and regular people just like you all the time.  We won't expect you to nail your lines perfectly every time, and you should expect that we'll give you honest, respectful feedback – all with the goal of helping you be your best.
A typical on-site production consists of gathering A-roll and B-roll.  A-roll is usually your on-camera portion.  Oftentimes, it's an interview or scripted messages delivered directly to the camera.  B-roll are the shots we gather that pertain to what you said.  Exteriors of buildings, people inside your office working, close-ups of fingers on a keyboard are all examples of B-roll.  B-roll can also include screen captures – especially if you're teaching someone how to use software.
While we do arrive with a plan, sometimes creativity demands that we stray from it.  We'll often shoot more video than we need, for the sake of variety, and return back to our offices ready to begin post-production.
Animation
Our creative team will get to work on your custom, animated video or high-end motion graphics.
From explainer videos with characters to illustrating complex topics in a fun way, our experienced animators will help make your video beautiful and compelling.
First, let's discuss the word animation.  You might be thinking Disney here, but unless that's your budget level for business videos, you'd be wrong.  We're talking about animation that works hard for your company.  There's a limitless number of styles and types such as 2D, 3D and 2.5D; character-driven, dynamic text, illustrated and so on.
You already know that the medium of video has the power to grab attention and make a lasting impression, but animation videos (or videos that use animated elements) are especially good at communicating quickly and concisely, helping viewers gain understanding, and keeping viewers engaged.
If you're looking to sell, tell, explain or train, consider using animation as part of your overall video strategy.  We think you'll like the results.
Wanna see what we've done for companies like yours?  Then, take a peek at our examples page.  Whether you want animated elements or an fully animated video, we'll bring together all the elements like sound effects and music to get it ready for your approval.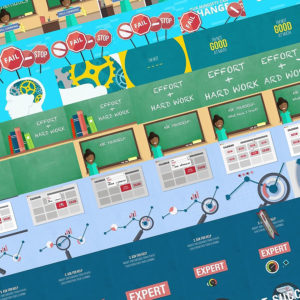 Post-Production (Editing)
We'll bring all the visual and audio elements together and produce the final video.
Many people believe that post-production is editing.  And, every so often we get asked to shoot the video and allow our client to edit it.  We love the DIY spirit, but we wrote a short post on why that might not be the best idea.
Sure, editing plays a hugely important role during post-production, but it's so much more!   Post-production also encompasses creative decision making, graphics creation, music selection, audio production and editing, and video review.
Post-production is a part of the process where we're excitedly blending creative and technical tasks – mixing the coldness of 1s and 0s with the warmth of emotionally resonant imagery.  Our editors are computer systems specialists and storytellers.  The story, the message and the tone are all shaped and refined during post-production.
It's worth mentioning that reviewing your video strategy and video production plan are key during this part of the process.  We work to ensure that the video we produce is consistent with the style and tone appropriate for the audience who is about to receive it.  Do the music and visual style enhance the message and your brand, or distract from it?   What we get ready for review for you will be on point and on message.
Because we're human, and so are you, sometimes we need to re-work the video to get it just right.  That's OK, because our secure review process helps both of us efficiently deliver feedback on any device.  We'll send you an easy to access review link once it's ready.
Upon approval from you, then we prepare your video for the next step, delivery.
Delivery
We'll add video to your website, emails and social media posts for playback on any device.
Video delivery is the key to getting your video seen and the key to getting viewer insights.  Our service extends beyond handing off a digital file.  We'll get your video posted into your secure, high-speed delivery platform.  We'll customize the account with your company's logo and send you a link to setup your secure login.
During this part of the process, we'll prepare code snippets that make adding new video a breeze whether you're adding video to your website, email campaign or places like Twitter and Facebook.
The instant your video is live, it's being delivered over the same top-quality content delivery network used by the biggest names on the internet.  This means, it won't slow down your website or increase server demand from your emails, and it means you don't need to download your video and upload it separately to each social media destination.
Behind the scenes, our video delivery service is gathering data in real-time about your video.  In a very short amount of time, we'll know which video is seen the most, which video is best at converting, and which video is bringing in new leads.  (By the way, we thought you might want to read about how a customer like you uses video data to make decisions.)
To best help you understand your viewing insights, we work with you to interpret the data and make informed recommendations for new video development.